90mm LED Lights – Model 93
90mm LED Lights
Overview
J.W. Speaker's LED Model 93 sets a new standard for 90mm headlights & fog turn/DRL. This LED light is designed to be a drop-in replacement for buses, RVs, tractors, trams, motor coaches, motorcycles, and custom cars. Single, double, and 3-point mounting options are available for easy installation.
Features
Drop-in replacement for standard 90mm lights
100% ECE & DOT compliant 90mm lights for legal on-road use
Individually packaged with mounting options sold separately
Complete flexibility to choose the correct light and mounting configuration for every application
Choose from 3-point mounts for 1.5mm or 3mm thick mounting plates, and single or double light mounting brackets (each sold separately).
Meets the tough criteria for IP67 and IP69K for the best protection from dust and water ingress
Re-designed die-cast aluminum housing features a sealed integrated connector to meet the harsh demands of transportation and other on-road applications
Pedestal mount brackets can be positioned at 90-degree intervals while maintaining pattern integrity and legality
Street legal supporting DOT & ECE standards
DOT-compliance for legal on-road use requires that the Model 93 high beam be used in conjunction with your stock headlights, turning off the high beam when faced with oncoming traffic. Your DOT-compliance is clearly etched on the lens of the light.
ECE-compliant guarantees your lights are compliant in the European Union and in non-European countries that have adopted ECE Regulations for visibility, durability, and reliability.
Summary
Model 93 is designed as fog light for 90mm headlights, outfitter, and turn/DRL lights. Each model 93 is individually packaged, and a variety of mounting brackets are sold separately including single and double pedestal lamp mounting brackets as well as 3-point mounting brackets for 1.5mm and 3mm thick mounting frames.
Offering a light that outlasts the job, model 93 is sealed to IP67 and IP69K, protecting it from dust and water ingress. The re-designed die-cast aluminum housing is made to meet the harsh demands of the job.
Applications
Agriculture
Automotive
Construction
Industrial
Material Handling
Mining
Motorcycle
Off-Road 4x4
Railroad
Specialty Vehicles
Truck & Bus
Powersports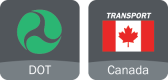 Specifications
Dealer Locator
Part Number List
Part Number
Description
Price (U.S. only)
Spec Sheet
0553071

Part 0553071

12-24V DOT/ECE LED High Beam Headlight
DownloadPDF
Complies with: Buy America Standards, ECE Reg 112, FMVSS 108 s10.1 (Table XVIII), IEC IP69K
0554381

Part 0554381

12-24V DOT/ECE LED High Beam Headlight with Front Position
DownloadPDF
Complies with: Buy America Standards, ECE Reg 10, ECE Reg 112, ECE Reg 7, FMVSS 108 s10.1 (Table XVIII), IEC IP69K
0553081

Part 0553081

12-24V DOT/ECE Reg 113 LED Symmetrical Low Beam Headlight
DownloadPDF
Complies with: Buy America Standards, ECE Reg 10, ECE Reg 113, FMVSS 108 s10.1 (Table XIX), IEC IP69K
0553091

Part 0553091

12-24V DOT/ECE Reg 112 LHT LED Low Beam Headlight
DownloadPDF
Complies with: Buy America Standards, ECE Reg 10, ECE Reg 112, FMVSS 108 s10.1 (Table XIX), IEC IP69K
0553101

Part 0553101

12-24V DOT/ECE Reg 112 RHT LED Low Beam Headlight
DownloadPDF
Complies with: Buy America Standards, ECE Reg 10, ECE Reg 112, FMVSS 108 s10.1 (Table XIX), IEC IP69K
0556701

Part 0556701

12-24V SAE/ECE LED Fog Light
DownloadPDF
Complies with: Buy America Standards, ECE Reg 10, ECE Reg 19, IEC IP69K, SAE J583
0347941

Part 0347941

12-24V SAE/ECE LED Turn Signal with DRL Function
DownloadPDF
Complies with: Buy America Standards, ECE Reg 6, ECE Reg 7, ECE Reg 87, FMVSS 108 s7.1 (Table VI), IEC IP69K, SAE J2087, SAE J588
Dimensions
Related Resources