Heated Oval LED Signal Light – Model 274
2" x 6" Heated LED Signal Light
Buy Now
Overview:
Your brake, turn, and hazard lights are critical visual signals to drivers on the road. The Model 274 has multiple different versions so you can add SmartHeat® technology to every side of your vehicle. Powerful and long-lasting LEDs in the Model 274 signal lights give you confidence that your truck or trailer is clear of snow and ice and visible to other drivers. Each 274 signal light is DOT-compliant for legal on-road use and can be installed on your vehicle vertically or horizontally.
Features:
Retrofits standard 6" oval lights
First of its kind heated Front Position & Front Turn Light
SmartHeat® technology to melt snow & ice
12-24V heated signal lights
Easy LED trailer light upgrade
Flange, grommet, and L-shaped bracket mounting options
Superior IP69K sealing rating
DOT-compliant for legal on-road use
Optional Flash & Strobe feature
Street Legal:
DOT versions are for use in the U.S. DOT-compliance guarantees that your lights are legal on the road, meeting section 108 requirements of the Federal Motor Safety Standards. Your DOT-compliance is clearly etched on the lens of all J.W. Speaker 274 signal lights.
SmartHeat® Technology:
Avoid downtime from snow or ice-covered signal lights that make your truck hard to see. J.W. Speaker's SmartHeat® Technology in each Model 274's stop, turn, and tail lights automatically heat the lenses when conditions get tough so you can get home safely.
Installation Instructions:
The Model 274 offers a drop-in replacement for standard 6″ oval signal lights. Installation requires the black wire (for the heater) to be connected in order for the heater to work. Turn off power before installing it. Wiring information can be found on the individual spec sheets below. Click here for Installation Instructions for the Model 274 Flash versions.
Summary:
The Model 274 signal lights are your 360-degree lighting solution. These LED signal lights are designed and tested to meet IP69K, protecting against water, dust, and high-pressure washing. LEDs use less power than traditional bulbs and are designed to withstand the shock and vibration that comes with your job. Mounting flanges, grommets, and an L-shaped mounting bracket are available for easy installation to get you back on the road fast.
Applications
Agriculture
Construction
Industrial
Specialty Vehicles
Truck & Bus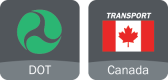 Specifications
Dealer Locator
Part Number List
Part Number
Description
Price (U.S. only)
Spec Sheet
0346701

Part 0346701

12-24V DOT LED Heated Red Stop, Tail, & Turn Light
DownloadPDF
Complies with: Buy America Standards, FMVSS 108 s7.1 (Table VII), FMVSS 108 s7.2 (Table VIII), FMVSS 108 s7.3 (Table IX), SAE J585, SAE J586, SAE J588, Tested to ECE Reg. 10 (Radiated Emissions only)
0346704

Part 0346704

12-24V DOT LED Heated Red Stop, Tail, & Turn Light with Harness
DownloadPDF
Complies with: Buy America Standards, FMVSS 108 s7.1 (Table VII), FMVSS 108 s7.2 (Table VIII), FMVSS 108 s7.3 (Table IX), SAE J585, SAE J586, SAE J588, Tested to ECE Reg. 10 (Radiated Emissions only)
0346711

Part 0346711

12-24V DOT LED Heated Amber Rear Turn Light
DownloadPDF
Complies with: Buy America Standards, FMVSS 108 s7.1 (Table VII), SAE J588, Tested to ECE Reg. 10 (Radiated Emissions only)
0346714

Part 0346714

12-24V DOT LED Heated Amber Rear Turn Light with Harness
DownloadPDF
Complies with: Buy America Standards, FMVSS 108 s7.1 (Table VII), SAE J588, Tested to ECE Reg. 10 (Radiated Emissions only)
0346721

Part 0346721

12-24V DOT LED Heated White Reverse Light
DownloadPDF
Complies with: Buy America Standards, FMVSS 108 s7.6 (Table XII), SAE J593, Tested to ECE Reg. 10 (Radiated Emissions only)
0346724

Part 0346724

12-24V DOT LED Heated White Reverse Light with Harness
DownloadPDF
Complies with: Buy America Standards, FMVSS 108 s7.6 (Table XII), SAE J593, Tested to ECE Reg. 10 (Radiated Emissions only)
0346781

Part 0346781

12-24V DOT LED Heated Amber Front Position & Front Turn Signal Light
DownloadPDF
Complies with: Buy America Standards, FMVSS 108 s7.1 (Table VI), FMVSS 108 s7.8 (Table XIV), SAE J222, SAE J588, Tested to ECE Reg. 10 (Radiated Emissions only)
0346784

Part 0346784

12-24V DOT LED Heated Amber Front Position & Front Turn Signal Light with Harness
DownloadPDF
Complies with: Buy America Standards, FMVSS 108 s7.1 (Table VI), FMVSS 108 s7.8 (Table XIV), SAE J222, SAE J588, Tested to ECE Reg. 10 (Radiated Emissions only)
0346791

Part 0346791

12-24V DOT LED Heated Amber Side Marker Light
DownloadPDF
Complies with: Buy America Standards, FMVSS 108 s7.4 (Table X), SAE J592, Tested to ECE Reg. 10 (Radiated Emissions only)
0346794

Part 0346794

12-24V DOT LED Heated Amber Side Marker Light with Harness
DownloadPDF
Complies with: Buy America Standards, FMVSS 108 s7.4 (Table X), SAE J592, Tested to ECE Reg. 10 (Radiated Emissions only)
0646781

Part 0646781

12-24V DOT LED Heated AMBER Flash Signal Light
DownloadPDF
Complies with: Buy America Standards, IEC IP69K, SAE J1113-13, SAE J1113-21, SAE J1113-4, SAE J588, SAE J595 (Class II), Tested to ECE Reg. 10 (Radiated Emissions only)
0646791

Part 0646791

12-24V DOT LED Heated RED Flash Signal Light
DownloadPDF
Complies with: Buy America Standards, IEC IP69K, SAE J1113-13, SAE J1113-21, SAE J1113-4, SAE J588, SAE J595 (Class II), Tested to ECE Reg. 10 (Radiated Emissions only)
0646801

Part 0646801

12-24V DOT LED Heated GREEN Flash Signal Light
DownloadPDF
Complies with: Buy America Standards, IEC IP69K, SAE J1113-13, SAE J1113-21, SAE J1113-4, Tested to ECE Reg. 10 (Radiated Emissions only)
0646811

Part 0646811

12-24V DOT LED Heated BLUE Flash Signal Light
DownloadPDF
Complies with: Buy America Standards, IEC IP69K, SAE J1113-13, SAE J1113-21, SAE J1113-4, SAE J595 (Class II), Tested to ECE Reg. 10 (Radiated Emissions only)
0646821

Part 0646821

12-24V DOT LED Heated WHITE Flash Signal Light
DownloadPDF
Complies with: Buy America Standards, IEC IP69K, SAE J1113-13, SAE J1113-21, SAE J1113-4, SAE J595 (Class II), Tested to ECE Reg. 10 (Radiated Emissions only)
Dimensions