LED Headlight – Model 8633 Evolution
5.75" Round LED Headlights with Pedestal Mount
Overview
The Model 8633 Evolution LED headlight brings you all of the same great features found in our Model 8632 Evolution LED headlight, with the addition of SmartHeat®. This makes it an ideal LED headlight replacement for 5.75″ specifications.
Features
SmartHeat® Technology to de-ice lens without driver intervention
DOT- and ECE-compliant options making this product 100% legal for on-road use.
Sold as single lights and as 2 light kits
Plug and play installation ensures easy installation.
Low and High Beam utilize inner optics.
Turn signal, daytime running light & front position functions utilize an outer ring at high intensities.
Produces identical light output to our Model 8630 Evolution LED headlight and Model 8631 Evolution LED headlight.
Summary
The Model 8633 Evolution LED headlight offers a powerful LED upgrade option for pedestal mount 5.75″ (PAR46) sealed beam headlights. Our patented SmartHeat® technology features a thermally conductive grid system that will de-ice the lens up to twice as fast as other lights. The non-heated Model 8632 offers a side marker that illuminates along the side of the light, increasing visibility when in use.
Applications
Construction
Industrial
Mining
Off-Road 4x4
Railroad
Specialty Vehicles
Truck & Bus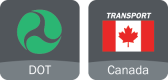 Specifications
Dealer Locator
Part Numbers (Heated)
Part Number
Description
Price (U.S. only)
Spec Sheet
0561301

Part 0561301

12/24V DOT/ECE LED RHT Heated Headlight w/ Turn Signal, DRL, & FP
DownloadPDF
Complies with: Buy America Standards, ECE Reg 10, ECE Reg 148 - 1b, ECE Reg 148 - A, ECE Reg 148 - RL, ECE Reg 149 - HC, ECE Reg 149 - HR, FMVSS 108 s10.1 (Table XIX), FMVSS 108 s10.1 (Table XVIII), FMVSS 108 s7.1 (Table VI), FMVSS 108 s7.8 (Table XIV), IEC IP67, IEC IP69K, SAE J2087, SAE J222, SAE J588, Tested to ECE Reg. 10 (Radiated Emissions only)
0561303

Part 0561303

12/24V DOT/ECE LED RHT Heated Headlight w/ Turn Signal, DRL, & FP - 2 Light Kit
DownloadPDF
Complies with: Buy America Standards, ECE Reg 10, ECE Reg 148 - 1b, ECE Reg 148 - A, ECE Reg 148 - RL, ECE Reg 149 - HC, ECE Reg 149 - HR, FMVSS 108 s10.1 (Table XIX), FMVSS 108 s10.1 (Table XVIII), FMVSS 108 s7.1 (Table VI), FMVSS 108 s7.8 (Table XIV), IEC IP67, IEC IP69K, SAE J2087, SAE J222, SAE J588, Tested to ECE Reg. 10 (Radiated Emissions only)
0561313

Part 0561313

12/24V ECE LED LHT Heated Headlight w/ Turn Signal, DRL, & FP - 2 Light Kit
DownloadPDF
Complies with: Buy America Standards, ECE Reg 10, ECE Reg 148 - 1b, ECE Reg 148 - A, ECE Reg 148 - RL, ECE Reg 149 - HC, ECE Reg 149 - HR, IEC IP67, IEC IP69K, Tested to ECE Reg. 10 (Radiated Emissions only)
Dimensions
Related Resources