LED Headlights & Fog Lights – Model 95
90mm LED Fog Lights
Overview
The Model 95 offers LED lights for trucks, designed to be drop-in replacements for halogen 90mm lights found on buses, trucks, and motor coaches.
Features
Easy plug & play installation, with minimal downtime
Low maintenance, using 75-80% less power than the stock halogen lights!
Bright and reliable, leveraging our solid optics technology
Resist shock and vibration to extend the life of your lights
Legal for on-road use, sealed to IP69K, and made in the U.S.A.
Installation Instructions:
Find them under our Related Resources below.
Street legal supporting DOT & ECE standards:
DOT-compliance for legal on-road use requires that the Model 95 high beam be used in conjunction with your stock headlights, turning off the high beam when faced with oncoming traffic. Your DOT-compliance is clearly etched on the lens of the light.
ECE-compliant guarantees your lights are compliant in the European Union and in non-European countries that have adopted ECE Regulations for visibility, durability, and reliability.
Summary
Each Model 95 features a heavy-duty housing, UV-resistant lens, and the latest in solid-state optics. They are designed to be drop-in LED lights for truck replacements for halogen lights used in heavy-duty trucks like Peterbilt 579/587 and Kenworth T660 models.
These lights leverage J.W. Speaker's solid optics technology to deliver precise engineered beam patterns that are not only street-legal, they're also more intense than stock lights to augment the headlight beam patterns. Say hello to brighter roads ahead with the Model 95 LED fog and high beam light kits from J.W. Speaker!
Applications
Specialty Vehicles
Truck & Bus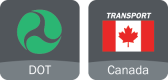 Specifications
Dealer Locator
Part Number List
Part Number
Description
Price (U.S. only)
Spec Sheet
0553713

Part 0553713

12-24V DOT/ECE LED High Beam Headlight - 2 Light Kit
DownloadPDF
Complies with: ECE Reg 112, FMVSS 108 s10.1 (Table XVIII), IEC IP69K
0553721

Part 0553721

12-24V DOT/ECE LED High Beam - 1 Light
DownloadPDF
Complies with: ECE Reg 112, FMVSS 108 s10.1 (Table XVIII), IEC IP69K
0553733

Part 0553733

12-24V SAE/ECE RHT & LHT LED Harmonized Fog Light - 2 Light Kit
DownloadPDF
Complies with: ECE Reg 19, IEC IP69K, SAE J583
0553741

Part 0553741

12-24V SAE/ECE RHT & LHT LED Harmonized Fog Light - 1 Light
DownloadPDF
Complies with: ECE Reg 19, IEC IP69K, SAE J583
Dimensions