Model Bobcat LED Headlight
Industrial LED Headlights - 6" x 6" Bobcat LED Headlights
Overview:
Complete plug and play replacement LED Headlight for the left-hand or right-hand Headlight on Bobcat skid steers and compact track loaders.
Direct replacement for OEM Bobcat part Numbers:
Left-Hand Headlights: 6718042, 6674400, 7259523
Righ-Hand Headlights: 6718043, 6674401, 7259524
Save yourself time and money with LED Lights that are IP68 rated so that no dust will get in your light and your light can be fully and continuously submerged in water. This Bobcat LED Headlight is designed to handle any severe environmental conditions.
Application:
The Bobcat LED Headlight is a direct replacement for Bobcat Skid Steer Loaders and Compact Track Loaders: 751, 753, 763, 773, 863, 864, 873, 883, 963, A220, A300, S130, S150, S160, S175, S185, S205, S220, S250, S300, S330, T140, T180, T190, T200, T250, T300, T320.
Superior visibility.
LED light is more natural on the eyes, and the color temperature helps to keep the operator more alert. Ultimately, this improves visibility enables operators to be both more safe and productive.
Extreme durability.
Equipment (and headlights) need to function in extreme conditions and harsh worksites. Shock and vibration often cause bulb-based lights to fail prematurely, but LED lights excel in these conditions. The impact-resistant polycarbonate lens and housing combine with solid-state electronics to provide maximum durability that you can trust.
Unmatched longevity.
Bobcat LED Headlights are designed to last for years in the harshest conditions. This Bobcat LED Headlight features a durable polycarbonate lens.
*Does not include housing or mount.
Specifications
Dealer Locator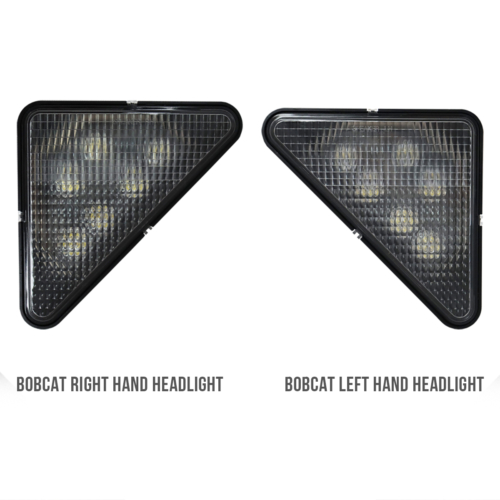 Dimensions
Related Resources