Adaptive LED Headlights – Model 8791 Adaptive 2
7" Round Headlights with Pedestal
Overview
The NEW Adaptive 2 Series headlights have been improved to feature Adaptive technology when using the high beam, in addition to the low beam. Providing ditch-to-ditch lighting to eliminate dark corners on sharp turns and a punch of light 1,500 feet down the road to give you a safer and more confident ride to master the corners.
Pedestal Mount
This Model 8791 series features a custom mounting bracket, allowing them to be mounted as pedestal headlights on applications without typical mounting buckets.
Features
Improved to feature adaptive technology with the high beam, in addition to the low beam
Pedestal mount for 7″ round (also known as PAR56) motorcycle headlights
On-board intelligence senses leaning angles when cornering to control light
Dynamically fills in dark areas while turning
Breakthrough improvement in visibility and safety
DOT & ECE dual-compliant headlight
Dual Burn® high & low beam optics for an extra punch of light
Also available in a bucket mount with our Model 8790 Adaptive 2 Series™
Installation Instructions:
Find them under our Related Resources below.
Summary
The Adaptive 2 Series™ uses proprietary technology and on-board sensors to calculate bank angles on a real-time basis, automatically directing the light array up or down as the motorcycle leans. This additional illumination fills in the gaps to the left or right of the motorcycle that traditional headlights can't.
The Model 8791 Adaptive 2 utilizes high-quality LEDs, ComfortLite® high beam optics and adaptive technology to produce a superior beam pattern and dramatically improve rider comfort and safety. Heavy-duty, die-cast aluminum housing and state-of-the-art LEDs not only deliver premium performance, but also give a bike a truly unique look!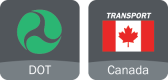 Specifications
Dealer Locator
Part Number List
Part Number
Description
Price (U.S. only)
Spec Sheet
0555071

Part 0555071

12V DOT/ECE LED High and Low Beam Adaptive Pedestal Headlight with Black Inner Bezel
DownloadPDF
Complies with: Buy America Standards, ECE Reg 113, ECE Reg 50, FMVSS 108 s10.1 (Table XX), IEC IP67, Tested to ECE Reg. 10 (Radiated Emissions only)
0555081

Part 0555081

12V DOT/ECE LED High and Low Beam Adaptive Pedestal Headlight with Chrome Inner Bezel
DownloadPDF
Complies with: Buy America Standards, ECE Reg 113, ECE Reg 50, FMVSS 108 s10.1 (Table XX), IEC IP67, Tested to ECE Reg. 10 (Radiated Emissions only)
Dimensions